RIFFLSEE
HOTEL AND BOOKING INFO
Some important hotel and booking infos for your vacation at Hotel Rifflsee
Breakfast buffet
Our rich breakfast buffet is daily from 7.30 a.m. to 9:30 am
partner hotel for dinner
In order to make your vacation more flexible, our hotel is a Hotel *** Garni (breakfast only)
We are happy to recommend our culinary partner hotel, the 4 * Superior Hotel Vier Jahreszeiten. In the restaurant and the parlors, you can look forward to culinary delights. Experience the cozy atmosphere in the traditional "Walserstube" or the inviting gourmet parlor while dining with your family.
Table reservations are possible until 10:00 a.m. at our reception or directly at the Hotel Vier Jahreszeiten. Please note that bottlenecks can occur, especially in the main seasons! Tel. +43 5413 86361
Because of the central location of our hotel, you can choose from a variety of restaurants, bistros, huts and hotel restaurants. It is advisable to reserve a table in advance!
Supermarket Nah und Frisch Mandarfen
Siglu – Beergarden/Hotel vier Jahreszeiten (take away - meals are also offered to take away! Simply order from your room by phone and pick it up - approx. 150m) Tel. +43 5413 86361 64
Pitztaler Alm (closed in summer) á la carte Tel. +43 5413 86365
Restaurant s´Pfandl (á la carte) Tel. +43 5413 86373
Restaurant Bergwerk (á la carte) Tel. +43 5413 86350
Alpinhotel Zirbenhof (á la carte) Tel. +43 5413 86284
Hotel Wildspitze (á la carte) Tel. +43 5413 86207
Hotel Gasthof Kirchenwirt (buffet) Tel. +43 5413 86215
Hexenstube/Hexenkessel (closed in summer, á la carte) Tel. +43 5413 20390
Hotel Gundolf/Restaurant "beim Schussler" (menu or á la carte) Tel. +43 5413 86223
Cafe Bistro am Platzl (á la carte) Tel. +43 5413 86386
Restaurants im ski- and hiking area
Vending machine for drinks and snacks
Our beverage and snack machine supplies you with cold drinks, snacks and sweets around the clock. The machine is located on the upper floor in the stairwell. Dishes, cutlery and glasses can be borrowed from reception if required!
There is also a drinks fridge in the hotel lobby available with cold drinks. We kindly ask you to enter the drinks you have drawn in the list and to pay for them before you leave.
Recreation and wellness
Our wellness facilities are located in the basement. The sauna, sanarium-biosauna, the steam bath, the infrared cabin and our relaxation room and direct access to beautifully designed outdoor area for fresh air are open daily from 3:30 p.m. to around 8:00 p.m. (In summer please register at the reception)
Bathrobes and bath towels are available for free in the wellness area! Bathing slippers are available in the wellness area for EUR 2.00. Please enter this in the room list!
Children and adolescents under the age of 14 are not permitted to enter and use the wellness area. We ask for your understanding!
non-smoking house
We are a non-smoking house. Smokers are welcome to enjoy their cigarette outdoors or on the balcony.
Rental
For the rental of ski, shoes and boards we offer you a ski rental, where you as a hotel guest receive a 20% discount on all prices. You will receive a ticket at the reception! Online skireservation https://easyresv3.wintersteiger.at/index_easyrent.php?shopid=100099
The ski rental "Pitz –Rent-Tal" is located in the Sportiv Hotel "Mittagskogel" directly on the street. Hiking poles and backpacks can be borrowed free of charge at the reception.
Children's discounts and surcharges
You will find these information in the room overviews and price tables.
Ski and boot storage
The ski and boot storage is located in the basement. You will receive the code for the opening at the reception.
Emergency numbers
The most important numbers in case of emergency are:
International emergency call: 112
Ambulance: 144
Country-specific area codes
Germany -> 0049 and the area code without zero
Netherlands -> 00 31 and the area code without zero
Belgium -> 0032 and the area code without zero
Italy -> 0039 and the area code without zero
France -> 0033 and the area code without zero
Switzerland -> 0041 and the area code without zero
Internet
Our hotel has free internet access via WiFi in the entire area. The access data you can find at the room information.
Phone
Choose a 0 for the overhead line.
You can reach the reception at number 16!
If you want to be called back, the number is: 0043/5413/86296 plus your room number.
Safety and hygiene concept
To prevent the corona virus from spreading,
we have developed the following safety and hygiene concept:
Corona measures for employees:
All employees were informed about important hygiene measures
and trained in contact with guests in view of the current situation.

Corona measures for guests:
We ask you to disinfect your hands at the restaurant entrance,
Hand disinfection is mandatory at the breakfast buffet !!
With your care you protect yourself as well as the other guests and your hosts.
There is no mask requirement in the wellness area,
we ask you to keep the minimum distances.
The sauna cabins may only be used by families.

Corona measures in the hotel:
Our cleaning and disinfection plan was coordinated on the basis of the current hygiene guidelines of the Austrian Hotel Association.
Highly effective disinfectants are used to clean the rooms.
All public areas are equipped with disinfectants
and are cleaned and disinfected at shorter intervals.
Particular attention is paid to doorknobs and handrails.
The room keys are always given to you freshly disinfected.
We ask you to keep the check-out time, i.e. the release of the room from 10 a.m. to 11 a.m. at the latest, in order to guarantee the cleaning and disinfection intervals for the following guests.

Corona measures in the restaurant:
The tables in the restaurant are set up in such a way that the official minimum distance is maintained between the groups of people.
After every guest change, the tablecloths are changed or the tables are disinfected.
Menages are disinfected after every guest change.
The serving cutlery at the buffet is regularly exchanged or disinfected.
The breakfast room will be "ventilated" more if necessary.
In addition to doorknobs and handrails, the keyboard of the credit card machine is also regularly disinfected.


Our team -
undertakes to own & third-party protection to adhere to the hygiene and safety concept.
You can trust us that we and our team will meet all the requirements precisely. Because your safety is important to us.
You can also rely on the positive atmosphere in our house - and on the respectful interaction of our guests with one another.
Reception
Our reception is only open at certain times. If you have any questions we will of course be at your disposal. If you have a problem during your stay in our house, you are always welcome to contact one of our employees or call us on the telephone numbers available at the reception.
Night entrance
If you go outside in the evening, please take the room key with you, as the main entrance and the door from the staircase to the reception are closed depending on the curfew. The night entrance is always open, you do not need a room key. The night entrance is via the three stairs and is located next to the main entrance.
Night sleep
From 10 p.m. you must keep a good night's sleep in all rooms, our corridors and on the outside area of our property. The TV should be set to room volume. Out of respect for the hotel neighbors and guests, all noise should be avoided. The hotel expects to treat other guests, residents and staff with respect. Failure to observe the night's rest can lead to an immediate ban on our house.
Rooms
We ask you to be careful with the furnishing and equipment of the rooms. We also hope that you will be environmentally friendly when dealing with water and electricity.
Our rooms are cleaned every day. However, please make sure that the rooms are clean and tidy. For cleaning and repairs, hotel staff and external craftsmen are authorized to enter your room. The guests are not entitled to make changes in the hotel rooms and their furnishings.
We ask you to ensure a pleasant and healthy room climate in your room and to ventilate the room regularly to prevent moisture and mold growth.
Unfortunately, we are unable to accommodate pets of any kind out of consideration for allergy sufferers among our guests.
In the rain and generally in the autumn and winter months, there is a risk of slipping on the balconies due to wetness, leaves, ice or snow. Entering is at your own risk.
For aesthetic reasons, please do not hang laundry, towels or other objects from the windows or the balcony parapets. Likewise, no objects such as Shoes or umbrellas can be parked in the aisle. The corridor and the stairwell must always remain clear as an escape route.
When leaving the room, please close all windows and doors to avoid damage caused by bad weather. Please also switch off the lights and all electrical devices.
Room invoices
To avoid waiting times on your departure, we kindly ask you to pay the room bill at the reception between 6 p.m. and 8 p.m. one day before your departure or 07:30 a.m. and 10 a.m. on day of departure. The phone is checked out and deleted one evening before departure in the evening so that you can pay it together with the room bill. We accept cash, Maestro-Card, VISA and MASTERCARD to pay the hotel bill.
Room safe
On the day of departure please delete your personal code and please leave the safe door open.
Check in – Check out
On the day of arrival, the rooms are ready for occupancy from 2 p.m.
Rooms must be vacated by 10:30 a.m. on the day of departure.
If our reception is not manned when you arrive, you will find a welcome envelope with a room key at the reception. We can be reached at any time at the telephone numbers on display at the reception.
If your arrival is later than 7:00 p.m., please let us know. You will then receive your room number from us. The rooms can be reached at any time via the night entrance!
In order to ensure that check-in runs smoothly and smoothly on arrival, we ask you to fill out our registration form before arrival. https://portal.gastfreund.net/hotel-rifflsee-st-leonhard/349721?language=en
We would like to ask you to check again before departure whether you have packed everything, because it is very difficult to forward any items left behind due to customs declaration and very high postage.
Parking facilities
Some parking spaces are available for the hotel's guests.
Video surveillance
Areas in which our property and building is under video surveillance are identified by clearly visible signs and instructions. For further information, we expressly refer to our general terms and conditions and our data protection declaration with regard to video surveillance of individual areas of our property.
Parents' duty of supervision and protection of minors
Parents are responsible for their children and all other minor travelers. Alcoholic beverages and tobacco products may not be passed on to minors. Please always keep your underage children under supervision during your stay in the hotel. The Child and Youth Protection Act applies in all rooms and in the outdoor facilities.
Booking conditions according to the Austrian hotel regulations
Travel insurance
Because something can always happen even during the most beautiful vacation: In addition to cancellation protection, Hotel Cancellation Plus offers assistance and support with regard to your hotel stay for up to 31 days – such as in event of trip interruption, involuntary holiday extension or distress in the mountains. And Covid-19-diseases were also included in the insurance cover! To secure yourself against hotel-related expenses, we recommend the purchase of an travel insurance.
ATTRACTIONS
EXKLUSIVE FOR YOUR GUESTS
BENEFIT FROM YOU HOLIDAY AT HOTEL RIFFLSEE
The Pitztal Summer Card
From the first day you can use the majority of its services with the exception of the mountain railways and XP Adventure Park. Here, you can choose to use the card on your day of arrival or on the day of your departure. Please note that on each following day you can only use the mountain railway and XP Adventure Park once per day. In addition to this, you will receive free entrance to all participating businesses such as museums, swimming lake, climbing hall, bouldering barn, alpine ibex centre and you can use all public busses free of charge every day!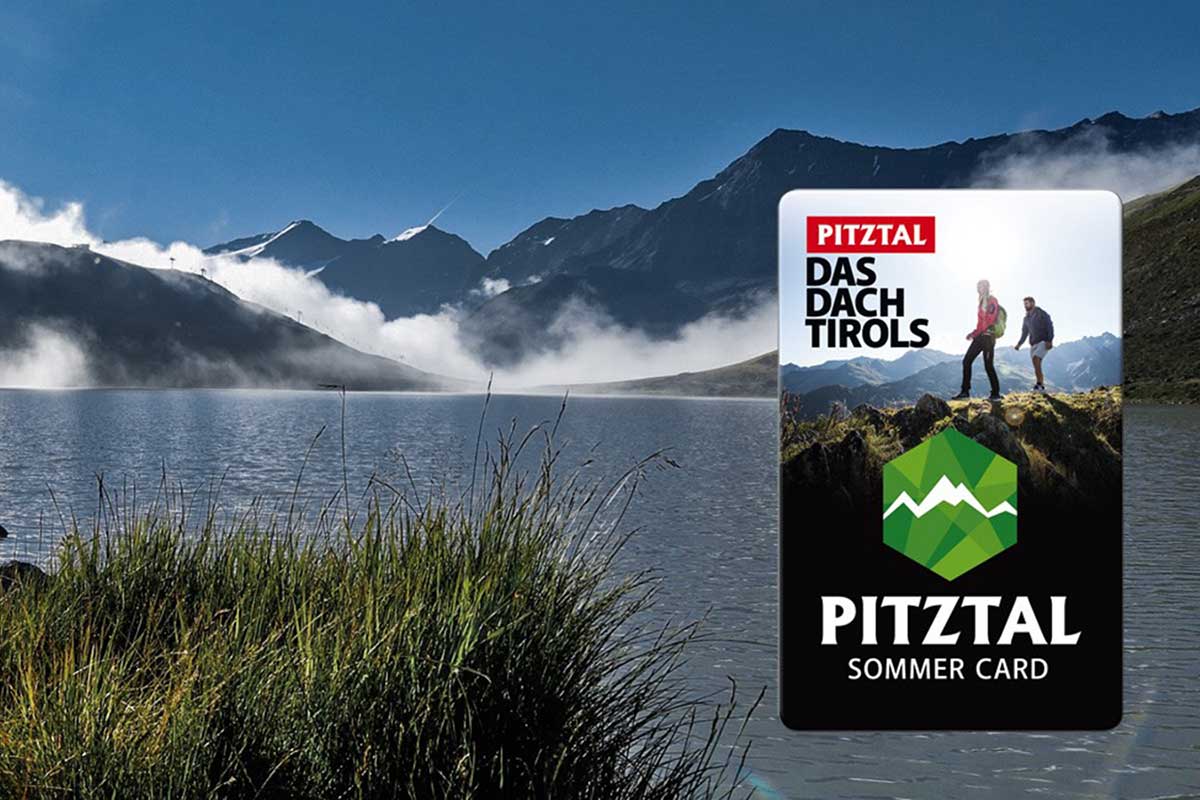 Gastfreund
The holiday companion for your stay.
Download your digital guest directory onto your smartphone and receive exclusive information
Guest information from A to Z
Restaurant recommendations
News
Morning post
and much more